After 1st Trading Activity of the Portuguese KuCoin community, we shift into the next gear and move on to an even more comprehensive second! In this, KuCoin presents the so-called 'AMPL Squadron'.
Activity period: from 14 August 2020 to 21 August 2020 (GMT-3, Brasília time)
Criteria for membership in the AMPL Squadron
1 – The candidate must complete the application form with your KuCoin email address or user ID and your referral link.
2 – The candidate must use their link or reference / referral code from KuCoin to invite users to register and negotiate AMPL at KuCoin.
3 – An effective user must buy at least 10 AMPL during the activity period. The condition is available for benefit 2 as stated below.
Benefits of becoming a member of the AMPL squad
1 – The candidate who invited the members of his group and reached the top 5 in AMPL trading volume will respectively receive a KuCoin merchandise and you will also receive a bonus based on the rating below.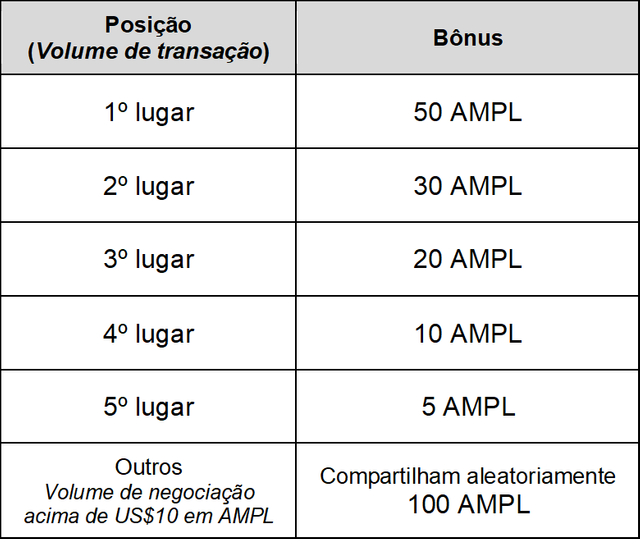 2 – Users who reach 10 nominations or more will benefit from 1 month discount on VIP LV1 trading fee.
3 Participants who meet both the volume and invitation criteria will receive all rewards as stated above.
Rules
1 – EXCLUSIVE activity for the KUCOIN PORTUGUÊS community;
2 – Participants will need to provide their User ID or e-mail address of the account at KuCoin in this form;
3 – Participants will need to invite at least one effective user to be eligible for rewards;
4 – KuCoin will collect the list of winners and distribute the reward within 15 working days after completion of the activity;
5 – The trading activity on the platform will undergo a rigorous inspection during the activity. For any malicious acts carried out during the period, including malicious transaction manipulations, illegal mass registration of accounts, automatic trading etc., the platform will cancel the qualification of the participants.
6 – KuCoin reserves all rights to define, in its sole discretion, whether the behavior of the transaction is counted as cheating behavior and to determine whether to cancel a user's participation qualification.
We appreciate your support!
Supported by true foreign investment giants, KuCoin is the exchange of choice for five million users around the globe!
Follow our social networks:
Web site: https://www.kucoin.com
Telegram: Portuguese | English
Twitter: Portuguese | English
Facebook: Portuguese | English
Medium: Portuguese | English
Sponsored Content